---
Couples Thai Massage Workshop
With Melissa Jackson
Saturday, April 22, 2023
6:30pm – 9:00pm
Alpine, UT
Join us for a therapeutic look at the ancient healing art of touch through the lens of Thai Massage.
The therapist (or giver) will use a rocking motion to open the joints and flow of energy by using their palms, hands, knees, and feet. The giver will also use yoga-like postures to release and open the body hence where the nickname, "lazy man's yoga", comes from.
Thai Massage is an energetic dance with the receiver, led by the giver.
Bring your spouse, significant other, or bestie for a unique way to experience the joy of giving and receiving therapeutic touch as partners, whatever your skills and comfort levels.
This workshop is a safe and fun way to dip your toe into the art of massage, without the need for the removal of clothing or the use of professional equipment. What's more, all the techniques you learn can be used over and over again at home (no massage table necessary)! Each couple will need to bring 3 pillows, 2 blankets, and one yoga mat.
Enjoy tea, light refreshment, and a cozy intimate atmosphere with friends.
DETAILS & REGISTRATION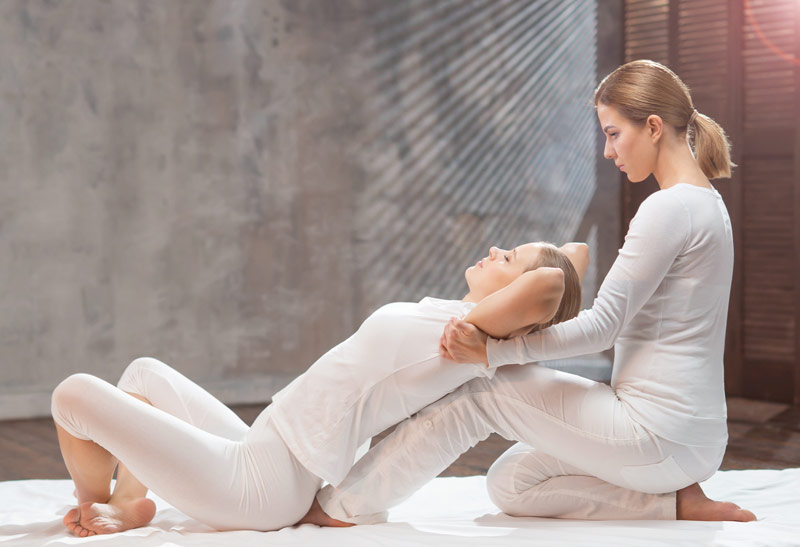 Masterclass: Movement and Longevity
Your Health Depends on You Moving!
Watch the recording
For many people, HEALTH, Exercise, and Nutrition are at the top of their "dreams, goals, & resolution" list. Did one of them make your top 3 for 2023?
In this FREE 1-hour masterclass, we will cover
Your signature movement
What exercise is right for you and when is the best time to exercise
"Outside the box" ideas on what movement is and how movement shapes our world
Modifications for those who are thinking "I can't do that."
Subtle yet powerful shifts in mindset and daily habits can change the trajectory of your vitality long term. It isn't rocket science, but there is so much information out there that it can take a statistician years to sort through all the hype and mystery.
I will make it simple, doable, and life-changing.
REGISTRATION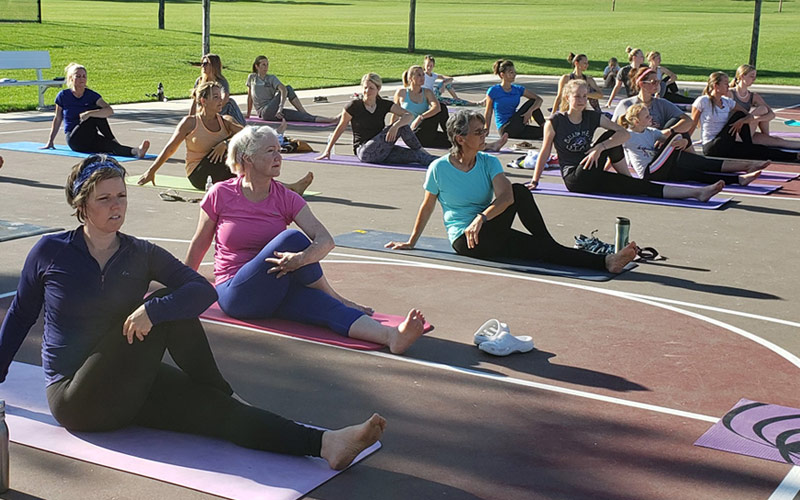 Spring 50-Hour Immersion
Linda Black, InTune Yoga Wellness
A 5-week yoga immersion delving into the InTune Yoga Wellness four pillars:
MOVE – asana and alignment
BREATHE – pranayama & subtle body energy
LIVE – focus on 10 living principles + history of yoga
BE – activate your unique gifts and talents
Join Linda Black, multi- lineage yoga teacher and yoga-life coach of 25 years in this 2 month yoga and wellness journey to deepen your practice and gain hours toward your yoga certification. Build on your understanding of the ancient philosophy of yoga, through the 8 Limbs, yamas, niymas and the yoga sutras and learn new ways to support your own energy system and lifestyle with the support of a seasoned and trusted guide.
This program will focus on the all aspects of asana and will include Pose Labs to help you focus technically where needed on specific yoga shapes or poses. Pranayama/breathing exercises will be incorporated into the practice each weekend and will help you access stores of more energy and vitality. Important elements of living a yoga lifestyle in the yamas, niyamas and Ayurveda will be woven through the entire course, along with meditation and sadhana.
Dates
April 14 – May 27, 2023*
Fridays, 4:00pm-9:00pm & Saturdays, 1:00pm-6:00pm
5 Weekends:
April 14 – 15
April 28 – 29
May 4 – Chakra Immersion Day Retreat – with unique sound attunement, guest instructors, lunch, workshops, and revitalizing practices
May 12 – 13
May 26 – 27
*Trainings will take place in Alpine. Exact location is given upon sign-up.
This training is for you if…
You want to deepen your yoga asana practice.
You really LOVE yoga and are curious to dive deeper into the history and philosophy.
You don't have time/resources for a full Teacher Training but want all the benefits of one.
You have already taken a 200-hour YTT and are looking to brush up on your skill set. YACEP credits = 50 hours CE
You drive people around you crazy with incessant talk about how much you LOVE yoga! (and that probably won't change.)
You like to connect with like-minded people in deep discussions.
Pricing
$1088 – Early Bird (pay in full by March 15).
$1188 – Thereafter. No interest payment plans are available.
REGISTER